IT Service Management Office
Technology Services
IT Service Management Office
About the ITSMO
The vision for the IT Service Management Office establishes that Technology Services will have a centralized framework for IT service management, which aligns with ITIL (Information Technology Infrastructure Library) best practice. ITIL is a set of detailed practices for IT Service Management (ITSM) that focuses on aligning IT services with the needs of the business.
Our mission is to establish a multi-year plan to develop and integrate appropriate ITIL processes into the operations of Technology Services to align the needs of the VCU community with the services offered by TS while reducing risk and increasing efficiencies.
New Releases
The ITSMO has officially released the new IT Catalog. It provides a list of user-facing services offered by Technology Services.
Our Responsibilities
The ITSMO is currently working on strategic ITIL Process integration into the Technology Services organization. The following are now in production:
The ITSMO is currently working on development and implementation of:
IT Asset Management
Incident and Problem Management
Data Analytics
In the pipeline to be developed:
Service Portfolio Management
Service Level Management
Continual Service Improvement
Request Management
For questions regarding any process integration, please email ITSMO@vcu.edu.
Contact the ITSM Team
| Name | Title | Phone | Email | Box |
| --- | --- | --- | --- | --- |
| Mattauch, Thomas | ITSM Program Manager | 827-0532 | mattauchtj | 843008 |
| Fauntleroy, Kena | ITSM Data Analytics and Reporting | 828-8734 | klfauntleroy | 843008 |
| Halunko, Lucy | ITSM SKMS Coordinator and Software Librarian | 828-7713 | lhalunko | 843008 |
| Hornsby, Tambre | ITSM Architect | 827-0574 | tlhornsb | 843008 |
IT Service Management
IT Service Management (ITSM), at its core, is about delivering value to the consumers of IT services. It concerns the management of the planning, delivery, operations, and control of IT services, with a goal of meeting the needs of service consumers. At VCU, we have adopted the ITIL framework to facilitate this value delivery.
What is ITIL?
In short, ITIL is a framework for best practices for Information Technology. This is accomplished through the alignment of IT Services with business needs. ITIL is a non-prescriptive framework that describes processes, rather than methods, of IT Service Management. ITIL is the industry standard for IT Service Management (ITSM).
ITIL consists of five lifecycle stages:
Service Strategy
Service Design
Service Transition
Service Operation
Continual Service Improvement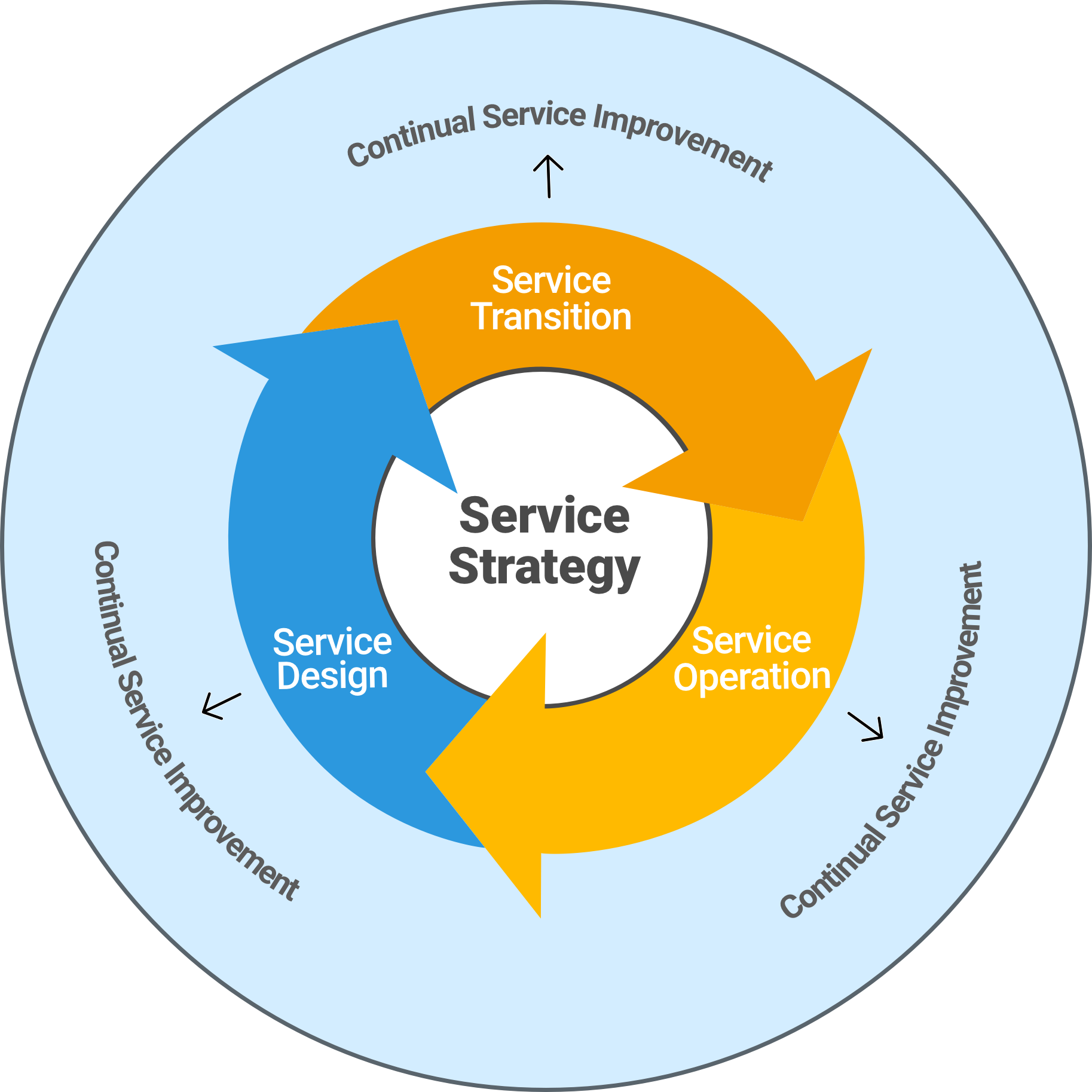 Project Pipeline
The ITSMO currently has three projects in our pipeline to continue the ITIL implementation process: Incident Management, Service Catalog, and Asset Management.
Incident Management
The primary purpose of Incident Management is to restore services due to a degradation of service or service unavailability. While TS has a toolset for Incident Management, an effort to formalize the process around Incident management is underway.
The consolidation of groups and categories and a more formalized approach will result in a more streamlined, efficient, and effective Incident Management process.
IT Catalog
(Phase 2 - Applications)
The second phase of the IT Catalog will be the implementation of the Applications Catalog. An inventory of all applications used at VCU will be listed in the Applications Catalog.
Over time, the IT Catalog will grow to connect services to Knowledge Base articles, and Incident, Request, Problem, and Asset Management functions.
Asset Management
The purpose of Asset Management is to ensure that assets required to deliver services are properly controlled. The IT Asset Management (ITAM) system provides accurate and reliable information about assets, to ensure they are available when needed.
Like Change Management, ITAM will be integrated into LANDESK Service Desk.
---
Project Transition Completed - In Production
Change Management
The purpose of Change Management is to control the lifecycle of all changes, enabling beneficial changes to be made with minimum disruption to IT services.
TS has developed the Change Management module in LANDESK Service Desk as well as a new Change Management process.
IT Catalog
(Phase 1 - Services)
The purpose of the IT Catalog is to provide our customers with easy access to IT Services.
The first phase of the IT Catalog has been completed. User-facing services offered by Technology Services are listed in alphabetical order and assigned to categories and customer types. Access to additional information about the service and help is also provided.