Travel Recommendations
International Travel Recommendations
The following are technology best practices for VCU community members traveling abroad. If you are working with information belonging to the University and are planning to travel abroad, we encourage you to review these recommendations with your departmental IT support staff or the information security office (infosec@vcu.edu) to develop the most appropriate way to implement these recommendations.
RamsVPN
RamsVPN is a Virtual Private Network (VPN) that provides a secure connection to the VCU network over a public network.
Although you may be connecting from a remote location, the VPN makes the connection work as if you were on a direct connection to the VCU campus network. However, please be advised some U.S. embargoed countries do not allow VPN in traffic, and the RamsVPN will not work in these locations.
For additional installation information, visit our RamsVPN page.
VCU 2Factor\Duo Mobile Authentication (Duo Passcode or Hardware token)
To safeguard VCU information from cyber threats, VCU has integrated VCU 2Factor Authentication. VCU 2Factor Authentication is an extra layer of security to ensure that you are the only person who can access your account, even if someone knows your password.
Before international travel, Technology Services recommends that you have the duo app installed and activated with VCU. If you do not have access to the internet or cell service during your travel on your mobile device or tablet, you can still authenticate with duo using a passcode from the app.
Generate a Passcode with Duo App
Open the Duo Mobile App.
Tap on the Virginia Commonwealth University account.
A passcode will be displayed.
When prompted for your secondary authentication method when logging in, select

Enter a Passcode

and then enter the passcode displayed in the Duo app.
Click Log In.
If you do not have a smartphone then the alternate method would be to request a Hardware token. Please contact VCU IT Support Center before your travel
Connect to Secure WiFi Network
Connecting to WiFi networks abroad will help you stay connected without relying on a cellular connection and help decrease the amount of data roaming charges if you happen to have an international cellular plan. Before connecting to a wireless network, please be aware of free\open WiFi networks (does not require a password). Free WiFi networks are not secure, and criminals can retrieve information from your devices very easily. VCU TS recommends connecting your device to a VPN for increased security.
COVID Tracing Applications
Apple and Google are developing an Exposure Notification System to notify the public of the potential spread of the infection. iPhone users(starting with iOS 13.5) do not have to install a specific health department app to use Exposure Notifications. However, local health department support is still required for the feature to work based on where you live. Before traveling, check with the local government's on their local COVID tracing Apps
iPhone
Turn on COVID tracing Contact tracing is still turned off by default
Open Settings on your iPhone

Swipe down and tap Exposure Notifications just above Battery

Contact tracing (Exposure Notifications are off by default)

Tap Turn on Exposure Notifications to see if the feature is available in your area.

You can only use the feature if a local health authority has made it available.

You can toggle off "Availability Alerts" if you don't want to know when contact tracing is available in your area.


This is how it looks: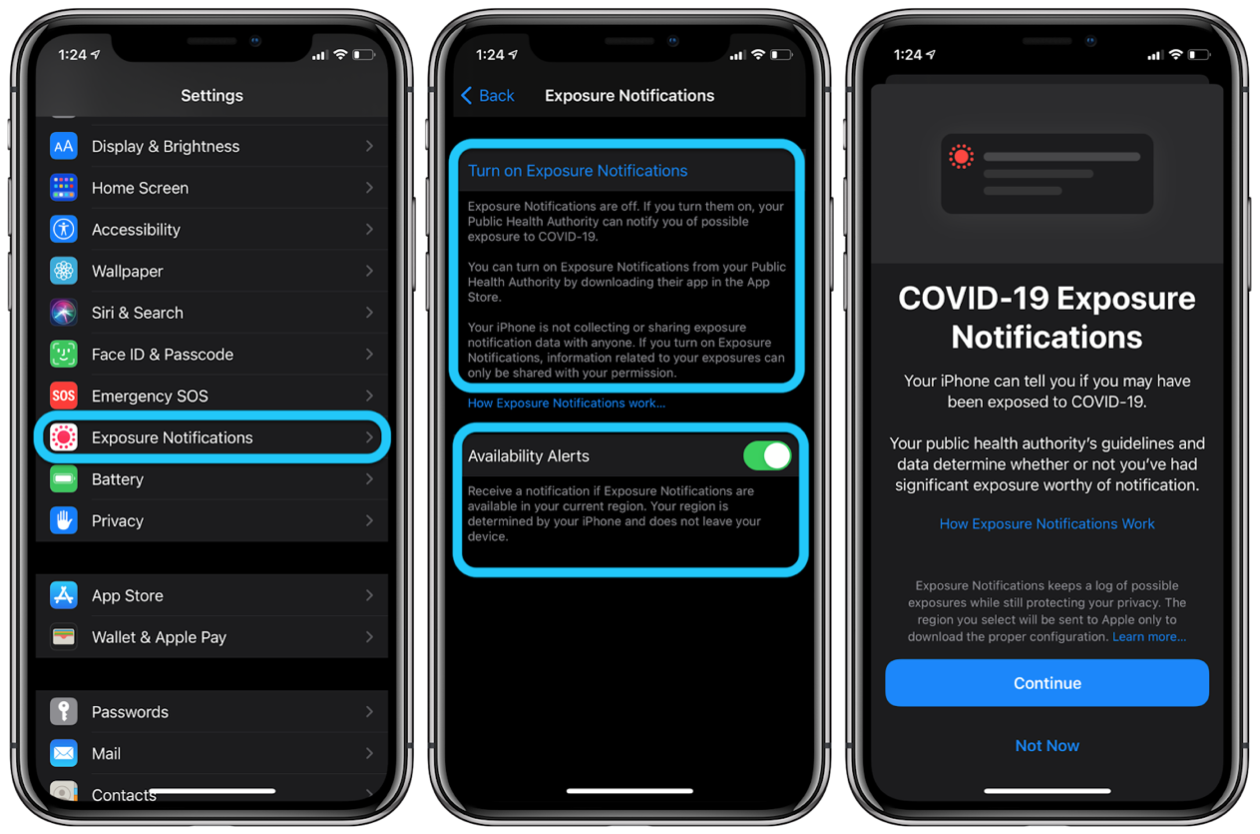 Android
Click the link below to find local health authorities notification apps for COVID-19 exposure (if available).
https://www.google.com/covid19/exposurenotifications/select/
Apple and Google Joint Venture for COVID-19 Exposure
https://www.google.com/covid19/exposurenotifications/
International Adapter Kit
Having a good set of international power adapters is key when traveling abroad. Different countries have different power outlets, so it's recommended users purchase a universal international kit that includes at least five power adapters.
Below are two international adapter recommendations.
Traveling Precautions and Tips
Pre-Load Maps When Traveling Abroad
While traveling abroad, users are likely to search how to get to tourist attractions or know how to get around the city. However, accomplishing this task is difficult when your smartphone does not have cellular connectivity within the country (unless you have an international roaming plan).
It is recommended before you travel outside the country to download offline maps to your device so you'll be able to navigate throughout your destination without connecting to a cellular network. As an example, Google provides instructions here to download offline maps for their Android and iOS apps.
Limit Social Media Post
According to an article in Time Magazine, it's estimated that 78 percent of burglars now use social media to choose the location of their next break-in. Search features like Facebook's new Graph Search tool could make the research even easier for thieves. Now burglars can quickly find out who checked in at tourist attractions or easily comb through timeline photos for travel-related pictures. Don't let your social media behavior during travel put your home at risk for a burglary. Here are some social media safety tips for your next trip
Before Traveling
Resist the "I'm going on vacation" social media announcement. You might want to brag to your friends that you'll be on the beach for the next seven days, but resist the urge to post or tweet about it.


Disable location-identifying settings.

Smartphones, tablets, and laptops have location services that identify where you are using GPS or Wi-Fi hotspots. By disabling the location-identifying settings, your geographic location won't be captured when you tweet or post.


Check your Facebook tagging settings. Facebook's privacy settings allow you to manage the posts and photos you're tagged in. Prevent tagged posts from automatically appearing on your timeline by enabling the timeline review control. Then you can approve pictures snapped by friends or family during vacation after you get home. While you're adjusting your Facebook tagging settings for that vacation, take a few minutes to double-check the rest of your social media privacy settings.
While Traveling
Don't check in or post about your trip. Check-ins on Foursquare and Facebook are a no-no while you're on vacation—and so is tweeting about it. By pinning your exact location on a social media virtual map like Foursquare, your friends will know where you are—and burglars will know where you aren't.


Capture the incredible moments. Take photos and jot down the social media messages you'd normally say about the experience. Consider using a social media management website to write posts and tweets, then schedule them to post after you return home.


Blog now—publish later.

Blogging during your vacation is a great way to capture all the details of your experience. Then, when you finish writing the post, save it as a draft instead of publishing it.
After Traveling
Share.

Once you get home, recap your vacation with friends and family by sharing the photos from your trip and publishing your blog posts.
Pass these tips along to your fellow travelers, so their social media behavior on vacation doesn't put your home at risk for burglary.
Label and Secure Everything
Whenever you travel to a foreign city or country, keeping you and your devices safe should be priority number one. Pickpockets and thieves are everywhere, but they're more likely to prey on easy targets in tourist areas. So follow these rules to avoid losing gadgets on your trip:
Keep your computer in a nondescript bag: Satchels, dingy purses, anything that doesn't shout "laptop bag" will help thieves pass you over for more appealing targets.
Carry your smartphone in your front pocket: Back pockets are easy to filch from. Front pockets, less so. Even better, keep your iPhone in your bag or a zipped jacket pocket.
Label your devices: If you lose your device, make sure it has your contact information and instructions for returning it—in multiple languages, if necessary.
Create a lock-screen wallpaper with your contact info on it in case you lose your device
Add your contact info by making custom device lock-screen wallpaper. You can also create lock screen information on your computer or via apps found on many device app stores.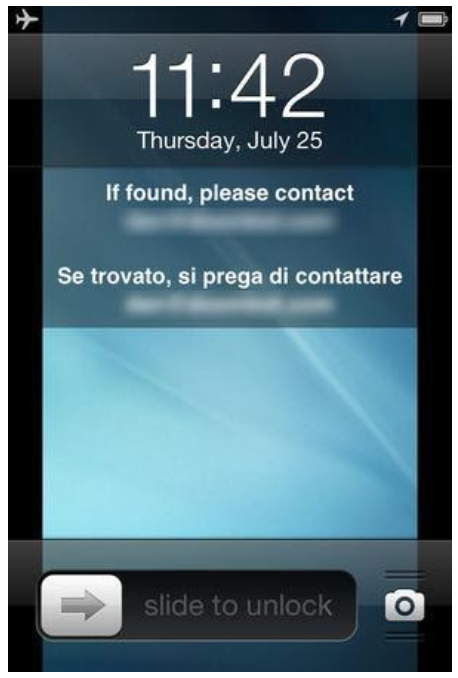 Also, place contact information stickers on your camera and SD cards, and add README.txt files on the SD cards.
Find My Phone
Please install and activate a find my phone app on your device. If you happen to lose your phone, Apple and Android manufacturers/carriers offer apps that will help you locate the device on a map and give users the ability to remotely wipe the device, display a message on the lock screen, and receive notifications. Here are the links for Apple and Google's device location services:
Travel Apps
Research travel apps for the country. Maps, Currency Converter, Language Translator, and Mass Transit System Apps are all must-haves when traveling abroad.
NOTE: You should research and download the local transit system apps before visiting your destination.
Recommended Links
Google Translate for iOS (iPhone, iPads, iPods)
Currency Converter for iOS (iPhone, iPads, iPods)
Currency Converter for Android
Google Maps for iOS (iPhone, iPads, iPods)