Getting started
Getting Started
The management section of the A-Z Web Directory is intended for use by VCU webmasters and website administrators.
Log In
The A-Z Web Directory uses the VCU Central Authentication Service to manage logins. This means that your username and password will match your VCU eID and password. Upon logging in for the first time, you'll see the Dashboard. The Dashboard provides a brief overview of all your sites that are currently listed in the Web Directory. From there you can easily edit any site's information, view the compliance report details, and view your sites by category or status.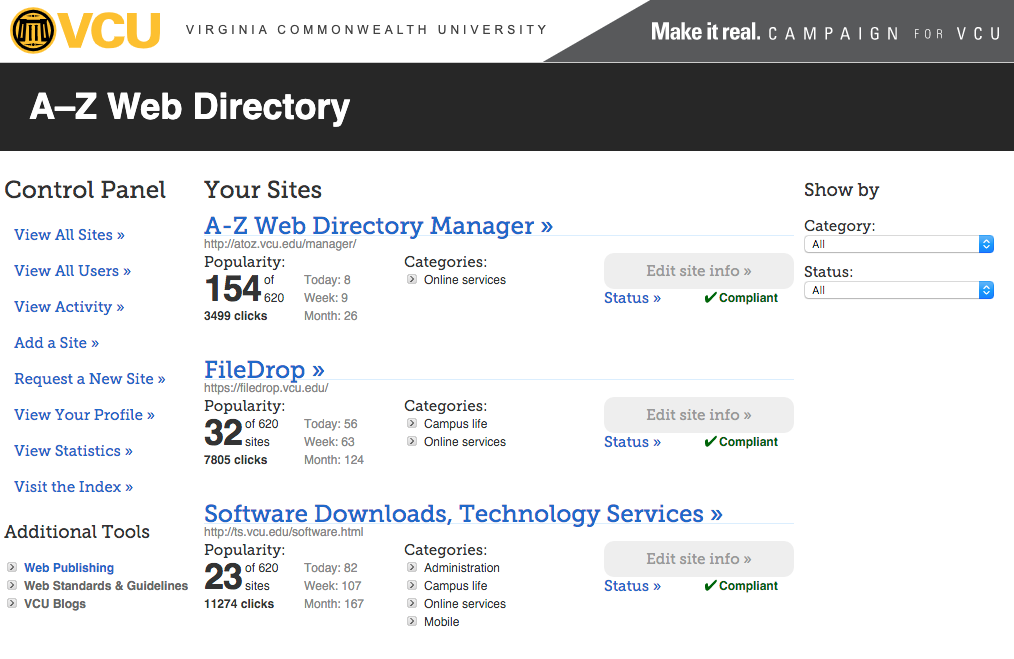 The control panel on the left gives you options to add an existing site to the A-Z index, request a new site (which lets you request a new domain and web host), edit your profile, and visit the public index.
Verify Your Profile
We automatically pull your contact information from LDAP the first time you log in. This includes your first and last name, your email address, your work phone number, and your department. (That's it, we promise.) You should verify that this information is correct by clicking "Edit Your Profile" from the Control Panel on the left of your dashboard.
We do require an accurate email address and phone number in case we need to contact you about any sites you maintain.
If you have a personal website and you'd like to be listed in the Faculty and Staff Web Directory, you can add it at the bottom of your profile. This will automatically be linked under your name in the Faculty and Staff Web Directory. If you change your mind and want to remove the link, it's as simple as deleting it from your profile.
Check Any Existing Sites
By default, we only assigned a title, URL, and category to most of the sites already in the A-Z database. You can always add more information for your sites by clicking the "Edit site info" button under each site's heading. (See Tweaking Your Site's Info for more information on all of the options available.)
Add New Sites
To quickly add a new site, you only need to fill out three fields: the site's name, the site's web address, and the type of site it is. Everything else is optional. Your eID will automatically be added as a site owner so you only need to add additional owners if there are other people who should have access to view/update the site's info in the Web Directory. For more details about fully customizing your site's listing, seeing Tweaking Your Site's Info.
Sites listed in the VCU A-Z index (with the exception of those in the Faculty and Staff web directory) are required to comply with the VCU Web Standards and Guidelines.