The power of keywords
The power of keywords
How are people finding your site? With the new A-Z web directory, you can point users directly to your site via keywords.
How do you determine good keywords?
Choosing the best keywords for your site may feel like plucking fruit from thin air. With a little bit of research, it doesn't have to be difficult. The best place to start culling your keywords is by looking at your site's current search queries. You can create an account on Google's Webmaster Tools and add your site (if you haven't already) to view what keywords are driving visitors to your site through Google. If you have an Urchin account, you can view search keywords for your site in the Overall Keyword Conversion report under Marketing Optimization > Search Engine Marketing.
Once you've exhausted the keywords that are already guiding people to your site, your site's content is another major source of keywords. What is the most important unique information on your site? For instance, for Dining Services, this might be meal plans, menus, or dining halls. Look at your content and determine what is unique to your site.
Here's a final tip: your site's title and alias are automatically included when searching the A-Z index. You don't need to add duplicate keywords for these.
Formatting your keywords
Now that you've got some keywords prepared for your site, how should you format them? The keyword search will look for partial words and phrases within your keywords - for instance, if your keyword is Virginia Commonwealth University, it will be found for queries like Virginia, Virginia Commonwealth, or Commonwealth University. (But don't use Virginia Commonwealth University as a keyword - all of the sites are related to VCU.) This partial search also works for simple plural terms - a query for credit would return your site if you have the keyword credits. You'll still want to supply keywords for non-simple plural alternatives if necessary (for instance, library and libraries or octopus and octopi). Separate keyword phrases (or individual keywords) with a comma, and leave a space between each set. Don't use carriage returns to separate keywords.
Here are the keywords we have for Technology Services:
computers, network, telephones, phones, software, applications, internet, antivirus, anti-virus, security, websites, eid, passwords, emails, e-mails, wireless, wifi, computer labs, telecommunications, servers, databases, knowledge base, technology support
Tracking your keywords
Now that you've assigned keywords to your site, are they successful? You can see the top 15 most popular keywords* for your site under your site statistics in the A-Z Web Directory manager. If you don't have any keywords set, all you'll see are words in the title or aliases of your site.
* Note: Keywords in queries are only tracked if someone visits your site through the A-Z search results in the combined VCU search engine or by searching directly through the A-Z web directory.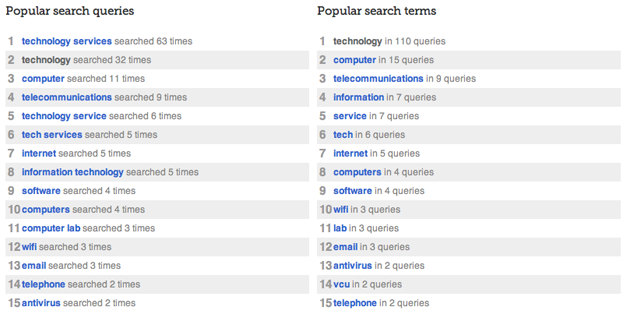 What's the difference between search queries and search terms?
Search queries are the long queries that people are typing into the search engine. Search terms are those queries broken down into individual words. Technology Services might be a query, but the terms would be technology and services. You may notice that some terms appear more frequently in queries than others.
Reserved keywords and ignored keywords
We do not search through A-Z keywords if a search query is three characters or shorter. For queries of exactly three characters, we will search the A-Z web directory for words within site titles and aliases that begin with the query. (A query for "art" will find any site with Art or Arts or Artists in the title, but a query for "bus" will not find Parking and Transportation even though they have "bus routes" as a keyword.) For queries under three characters, we do not search the A-Z web directory at all.
The following keywords are ignored in A-Z search queries as they are too generic and will result in a large number of results:
dept
department
office
school
services
vcu
We reserve the right to modify or remove keywords that are deemed too generic or unrelated to the purpose of a specific website. We will attempt to explain our reasons for any changes, and give you the opportunity to dispute our suggestions.
This article was updated: 12/8/2017