Writing your first entry
Writing your first entry
To publish your first post to your new WordPress blog, log in to your WordPress account and click "Posts" item in the left-hand menu. In the sub-menu that is now exposed, choose "Add New".

Enter your post's title in the field that reads, "Enter title here". The title can be anything you'd like it to be, but it's best to keep it short and make it accurately describe the post's content.
You can add the post itself in the editor box below the title field. You have two editing options: "Visual" or "HTML". Feel free to use the latter if you are comfortable marking up your own content — don't worry if it's not perfect, because WordPress will do a bit of tidying for you.
The visual editor is a standard "what you see is what you get" editor that lets you highlight and apply a variety of styles to text in your post. These include bold, italic, strikethrough, list formatting, alignment and more.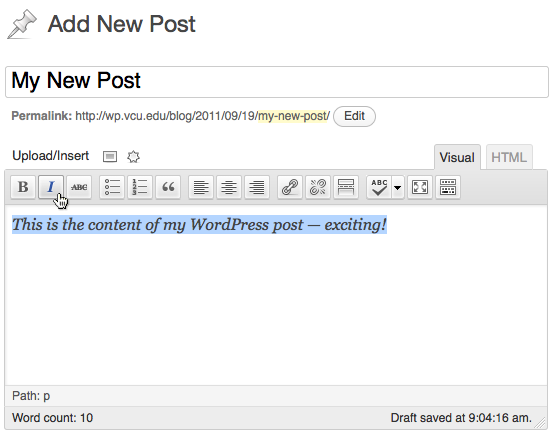 You may choose to categorize and tag your post. Categories and tags can be a good way to classify content so you can keep track of what you write and your readers can more easily find content that may appeal to them.
While you are preparing your first post, you may preview how it will look when it is published by clicking the "Preview" button in the "Publish" box in the upper right-hand corner.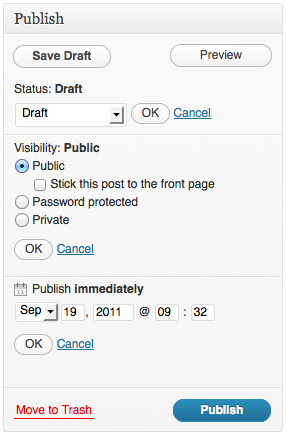 The other options are as follows. When you are writing a post for your own blog, you will not need to change the status of the post from 'Draft' to 'Pending Review' — this is meant for blogs with more than one author, only some of whom have the authority to publish posts.
You may want to restrict access to the post in the "Visibility" section.
Public means everyone who visits your blog will see the post. The 'Sticky' option means the post will stick to the top of your home page even after you have published later posts (this will work in most though not all themes).
Protecting it with a password allows only those to whom you have provided the password see the post.
Making it private means only you and others whom you have added as users to your blog will see the posts, and even they will only see it when logged in.
The default publication setting is to publish immediately. However, you can adjust the publication date to any date in the past or in the future. If you choose a time in the future, the post will automatically be published at that time.
When you are satisfied with the content and setting for your first post, click "Publish" to share it with the world.
This article was updated: 07/2/2013