Dreamweaver
Dreamweaver Tutorial
You may use Adobe Dreamweaver to create, manage, and upload your Web pages. You must enter the Host (www.people.vcu.edu) and the Host Directory (public_html/) in the SFTP section of the Remote Info section of the Edit option. You must also ensure that you connect using SFTP, using port 22. This allows you to "Get Files" and "Put Files" on the server.
Note*: You must be connected via VPN or to the VCU network to connect to a VCU web server via SFTP.
Setup Tutorial
1. Once you have Dreamweaver installed on your computer, open the application and select Site > Manage Sites
2. Within the Manage Sites window, select New Site
3. Add the site name and select a local site folder.
4. Select Servers from the menu on the left and select the plus icon (+)
5. Enter the properties specific to the web server you are connecting to including host, remote directory, protocol (SFTP), user and password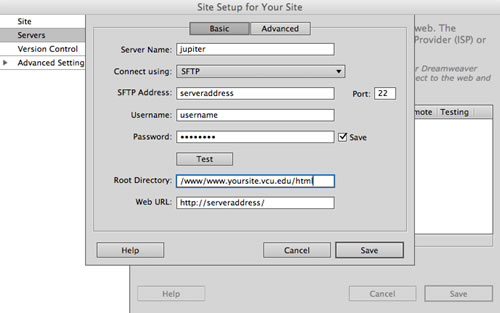 6. Select Save
This article was updated: 12/8/2015